Exercise to Strike up on a Modern Driver
Two common faults I often see with a driver set up when teaching are; weight too left sided , and open shoulder alignment. These are both caused by the alteration with the ball position for the driver. As it's moved left in the stance for a right handed player, the weight tends to go with it, and the shoulders open at the same time. Read more.......
Swing Tips
Lots of people have asked which swing model they are and how do they know which one will suit them. Here is a straight forward test to see which model will suit your overall flexibility, strength and physical condition. Read more.......
Galvin Green Dwayne Tour Pullover

view other products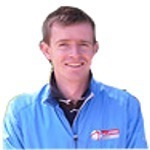 This half-zip pullover from Galvin Green is an athletic option you can add over a polo for smart styling with the warmth you need.
This Dwayne Tour pullover falls into Galvin Green's 'Warm Layer' category within its multi-layer concept. This means you get superb breathability and thermoregulation properties to keep your body at its optimum temperature, whatever the weather.
Key features and benefits include:

Insula fabric insulates body heat to ensure perfect body temperature
Excellent breathability so you don't overheat and sweat
Soft material with a snug fit
Part-Elastane fabric so you can swing with minimal restriction
Sizes available from S-XXXL
We always recommend trying on golf clothing before you buy because of brand variations, especially with snug-fitting garments, so pop by the shop to find your perfect size.