Exercise to Strike up on a Modern Driver
Two common faults I often see with a driver set up when teaching are; weight too left sided , and open shoulder alignment. These are both caused by the alteration with the ball position for the driver. As it's moved left in the stance for a right handed player, the weight tends to go with it, and the shoulders open at the same time. Read more.......
Swing Tips
Lots of people have asked which swing model they are and how do they know which one will suit them. Here is a straight forward test to see which model will suit your overall flexibility, strength and physical condition. Read more.......
Galvin Green Dash INSULA sweater

view other products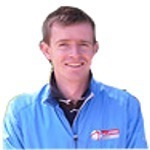 You won't need to run around looking for anything else once you've tried on this Dash sweater, which combines several useful features to make this a fantastic all-round package.
Galvin Green's INSULA garments are noticeably soft to touch, something that we'll all appreciate. This special fabric offers exceptional breathability with thermal regulation to keep the body warm and comfortable.
Key features include:

Front chest pocket that's ideal for your scorecard
Padded shoulders to make carrying your bag more comfortable
Soft, stretchy and snug that is specially developed for golfers
INSULA fabric provides long-lasting thermal insulation
The Dash is the perfect mid-layer to wear under a jacket or as a top layer over your shirt on a cooler day, making it a versatile option for your wardrobe.