Exercise to Strike up on a Modern Driver
Two common faults I often see with a driver set up when teaching are; weight too left sided , and open shoulder alignment. These are both caused by the alteration with the ball position for the driver. As it's moved left in the stance for a right handed player, the weight tends to go with it, and the shoulders open at the same time. Read more.......
Swing Tips
Lots of people have asked which swing model they are and how do they know which one will suit them. Here is a straight forward test to see which model will suit your overall flexibility, strength and physical condition. Read more.......
Mizuno Pro Series Cart Bag
view other products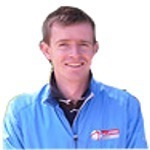 There is nothing more striking than a cart bag sporting the classic Mizuno blue and white colours.
This cart bag has all the finishing touches and quality materials your Mizuno irons deserve. With easy access to all the pockets when placed on a trolley/cart this cart bag will make your life easier when accessing all of your golfing paraphernalia.
Key features and benefits of the Pro Series cart bag are as follows:
14-way top cuff with integrated putter well
Oversized cooler pocket with drainage holes
9 pockets: 2 magnetic closure, 1 lined for valuables, 1 insulated drink pouch
Channel for cart strap
Zip-off front embroidery panel
Rain hood
If you'd like to come in and take a closer look at this range of bags, get in touch here.