Exercise to Strike up on a Modern Driver
Two common faults I often see with a driver set up when teaching are; weight too left sided , and open shoulder alignment. These are both caused by the alteration with the ball position for the driver. As it's moved left in the stance for a right handed player, the weight tends to go with it, and the shoulders open at the same time. Read more.......
Swing Tips
Lots of people have asked which swing model they are and how do they know which one will suit them. Here is a straight forward test to see which model will suit your overall flexibility, strength and physical condition. Read more.......
Callaway Hyper-Lite Zero Stand Bag
view other products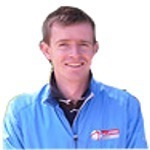 By the time you've filled up with drinks, clothing and spare balls your bag can weigh a ton, so if you carry often, owning a lightweight bag like this is a must.
This high tech bag is designed to be feather-light, but despite that you'll be pleased to know you'll still find enough zip pockets to accommodate all you may need on the course.
Key features and benefits of the Hyper-Lite Zero stand bag include:

4-way top with 2 full-length dividers
4 pockets including a drink and internal mesh pocket
Integrated lift handle
Lightweight construction with carbon fibre legs
Weighs under 2.5lbs
If you'd like to come by and feel just how light this bag is, get in touch here.